Another benefit to highly secured enterprise cloud based eDiscovery review software like RuleOne is never having to worry about updating or patching software installed behind your law firm's firewall. With cloud based eDiscovery software programs, your firm can always feel confident you are getting all of the latest updates rolled out to you.
To that end, RuleOne is very excited to announce four new features that were just added that were designed specifically to enhance your workflow, generate additional efficiencies, and create massive time boosters so that you can get to the heart of your matter faster than before!
Feature: New Special Privilege Settings for Tags, Searches, and Reports (Privilege Logs)
Now, you can formalize and streamline the process of tagging documents as 'privileged,' and accessing the privileged documents. Here's how it works!
Creating a privileged tag
First, you'll need to mark a tag as 'privileged.' To do this:
Go to the Tags view by clicking on the icon in the left panel.
Click on the '…' button against the tag (or create a new tag using the '+new tag' button.)
On the Tag Preferences screen, check the 'Yes, this note indicates a privilege.' checkbox under the 'Does this tag indicate a privilege?' heading.
(Optional) From the drop-down menu that opens, select a privilege category, or enter your own by clicking on the "Custom…" option and entering your own category name followed by an abbreviation in parenthesis. E.g. "Government Documents (GD)" NOTE: Set this to "None" if you do not wish to assign a privilege category
(Optional) Enter a note that you would like to be displayed alongside the tag (ideally used to convey why files tagged with it are considered privileged.)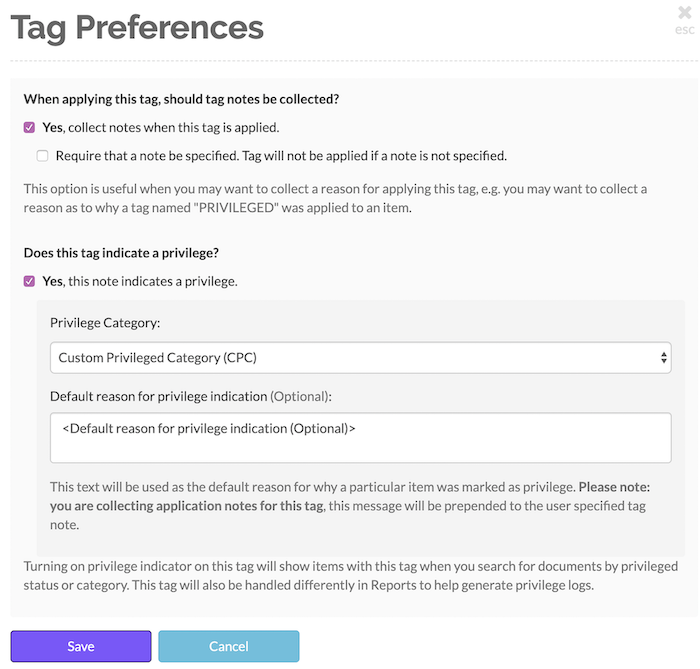 Why mark tags as privileged?
As described on the Tag Preferences screen, all files that are tagged with a privileged tag will be displayed when you search using the newly-introduced search parameters–'privileged' (true/false) and 'privileged-category' (all privileged categories in the case that have been assigned to files will be available as search values.)
This is also extremely helpful when you want to perform actions in bulk to all the privileged files in your case (like searching for all of them, during document review, etc.) or the inverse–performing actions on all files other than those which have a privileged status.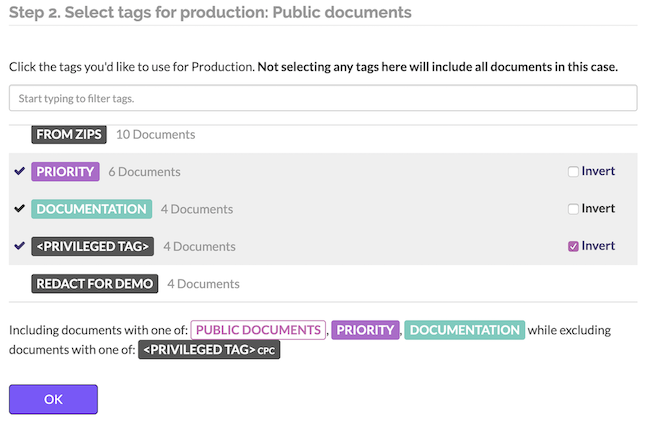 Additionally, privileged tags are treated differently by some of RuleOne's tools like its Reports system; it is possible to generate reports whose files only contain the tag names and/or tag application notes of 'privileged' tags. These tags will also be handled differently in Reports to help generate privilege logs.
---
Feature: Multi-page Redactions for Your Productions
Now, you the ability to redact entire pages, and even page ranges.
Redacting pages
When you mark areas of your document for redaction, it usually involves entering 'redacting' mode and dragging 'redaction boxes' across the content to be redacted. What happens if you want to remove an entire page, though? Till now, you would have to draw redaction boxes on every page manually. Luckily, you don't have to anymore!
RuleOne now has 'page' redactions. They function identically to regular redactions but are easier to place in bulk and to manage. To add them to your documents, open a file in the Document Viewer, then click on the 'Add Range' button found in the right column.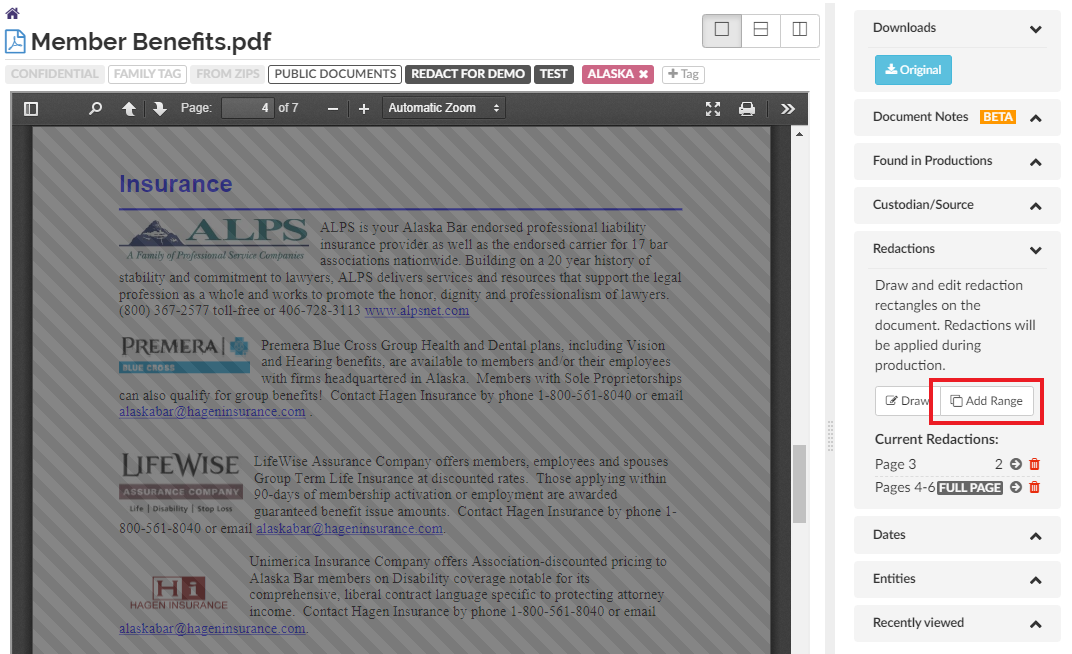 A text box will appear. Just enter the page numbers of the pages you wish to redact, separated by commas (don't leave a space after the commas.) Use a hyphen in between numbers to cover a page range (e.g. 3-7) Once you're done, hit the return button. That's all there is to it!
When you are producing your files, RuleOne will register these specified pages and page ranges as redaction boxes, treating them the same way it does manually-drawn redaction boxes. So the same redaction settings will be applied to all redactions.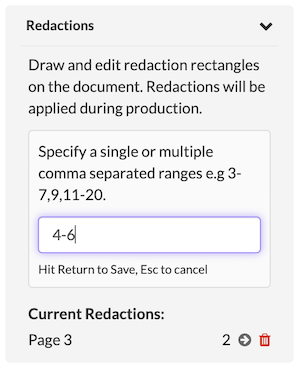 Feature: Downloading Files and Productions From Your Cases With Their Original File Names
RuleOne has just added a much-requested feature: you can now download files from your case in bulk with their original file names! You can also prefix files' Bates numbers onto their original file names.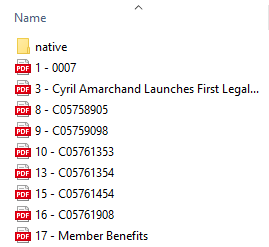 It's quick and simple, too. Just tag all the files you want to download (you can skip this step if you want to download all the files in your case) then open the Production Wizard and follow the steps of production as normal.
There are a few things you need to make sure to do:
In Step 2, choose the tags of files to be included, or don't select any tags if you want all the files in your case to be downloaded.
In Step 3, make sure to select either the 'Native files' or the 'Document-based PDFs' production outputs.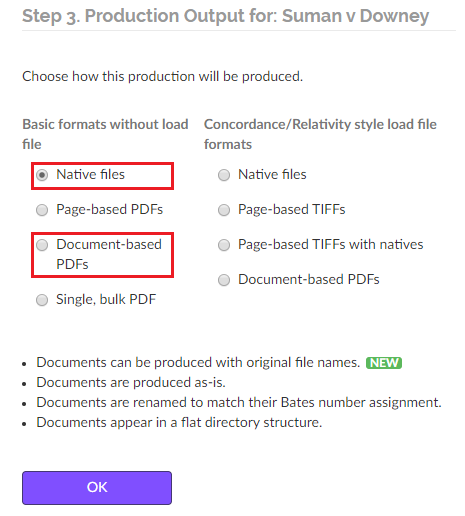 If you want Bates numbering in your files, choose an item sort order in Step 5.

In Step 8, enter a prefix for your Bates numbers and number padding if you wish, and if you are including Bates numbering into your file naming.

Finally, in Step 9 select how you want files to be named from the available options.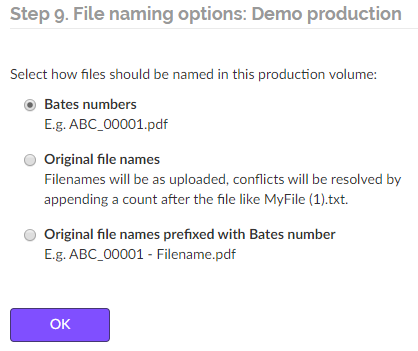 Finally, review your production in Step 10 and hit the 'Produce' button!
Feature: View Summaries of Your Production's Parameters
Finally, in this new feature, you can quickly view the parameters used in the creation of your productions.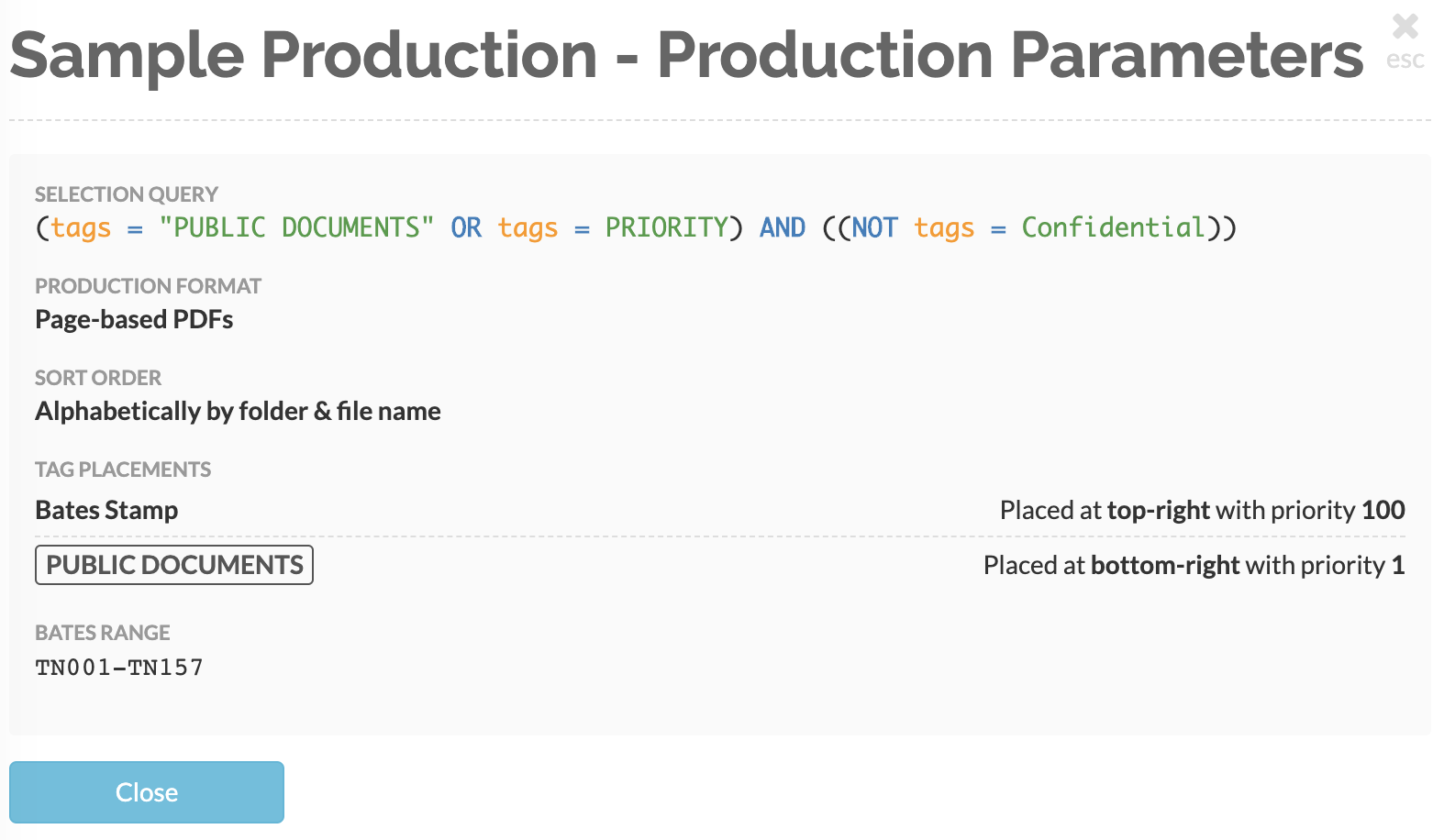 Viewing production parameter summaries
As soon as RuleOne begins producing your files, it gives you the option of viewing the parameters used for the summary. You do this from the 'Requested Productions' tab of the Productions view. If your production isn't visible, just click on the 'Submitted' heading column to sort by date of submission until the one at the top is yours. On the far right of your screen alongside the Download Production, Production Log, Share Production buttons, you will now also find an Information button. Click on the Information button against your production to bring up its parameter summary.

Note that this feature isn't retroactive, so some very early productions made before the update will not have the production information available.